It's that time of the year again. The holidays are upon us and that means millions of Americans will be hitting the roads and airports to see friends and family for Thanksgiving. But, it also means that millions of Americans have been getting ready for two of the biggest shopping days of the year, Black Friday and Cyber Monday. Black Friday has been a retail holiday for some time now, but in recent years, it has gone digital. And that's in addition to the big sales on Cyber Monday.
In 2016, more than 154 million customers shopped either in stores or online, bringing in billions of dollars. And the sales numbers for Cyber Monday last year broke records with an estimated $3.45 billion in sales.
At New South Performance, we're proud to be celebrating our 15th year as a leading e-commerce site for aftermarket car parts. We understand the impact the Internet has made and continues to make in the retail world. So this year, in addition to our 15 Days of Black Friday sale, we decided to take a look at the national picture to see who is searching for Black Friday or Cyber Monday Deals.
Using data from Google Trends, we analyzed the search activity over the last 30 days for 8 terms, 4 for each shopping day. The terms analyzed were: Black Friday deals, Black Friday deals 2017, Black Friday sales, Black Friday sales 2017, Cyber Monday deals, Cyber Monday deals 2017, Cyber Monday sales, and Cyber Monday sales 2017. The data is on a 0 – 100 scale, with 0 being no or very low search interest and 100 being very high. We then averaged the numbers to get our final rankings.
Here are some of our findings: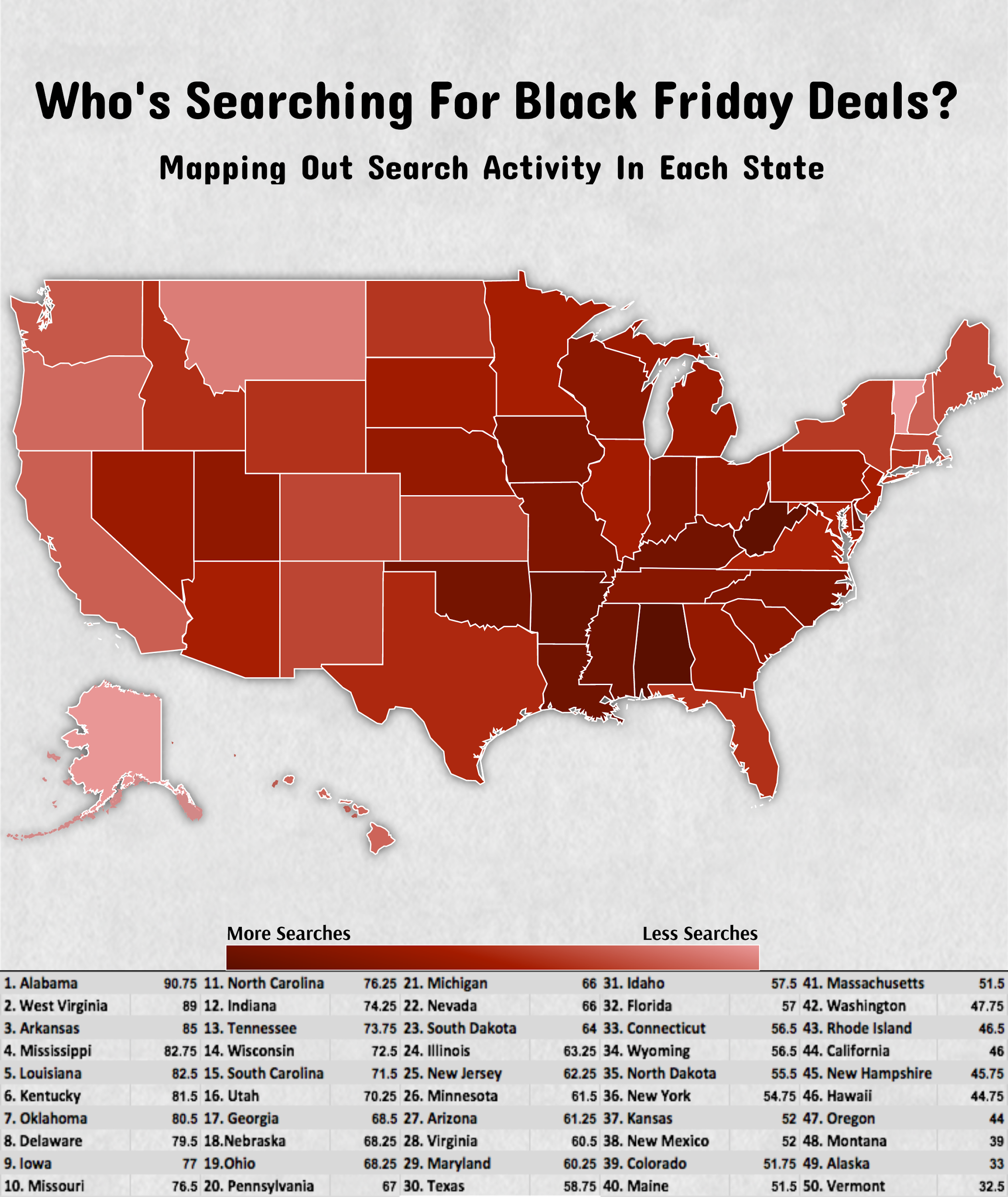 Overall, we found that many southern states, particularly those in the Deep South we searching for Black Friday deals. Alabama, Arkansas, Mississippi, and Louisiana were all in the top 5. On the other hand, both west coast and northeast states generally had lower search interest. California was in the bottom 10, despite being the most populous state. New York, another populous state, was in the bottom 15. Vermont was the state with the lowest average search ranking, perhaps due to the general lack of immediate shopping options.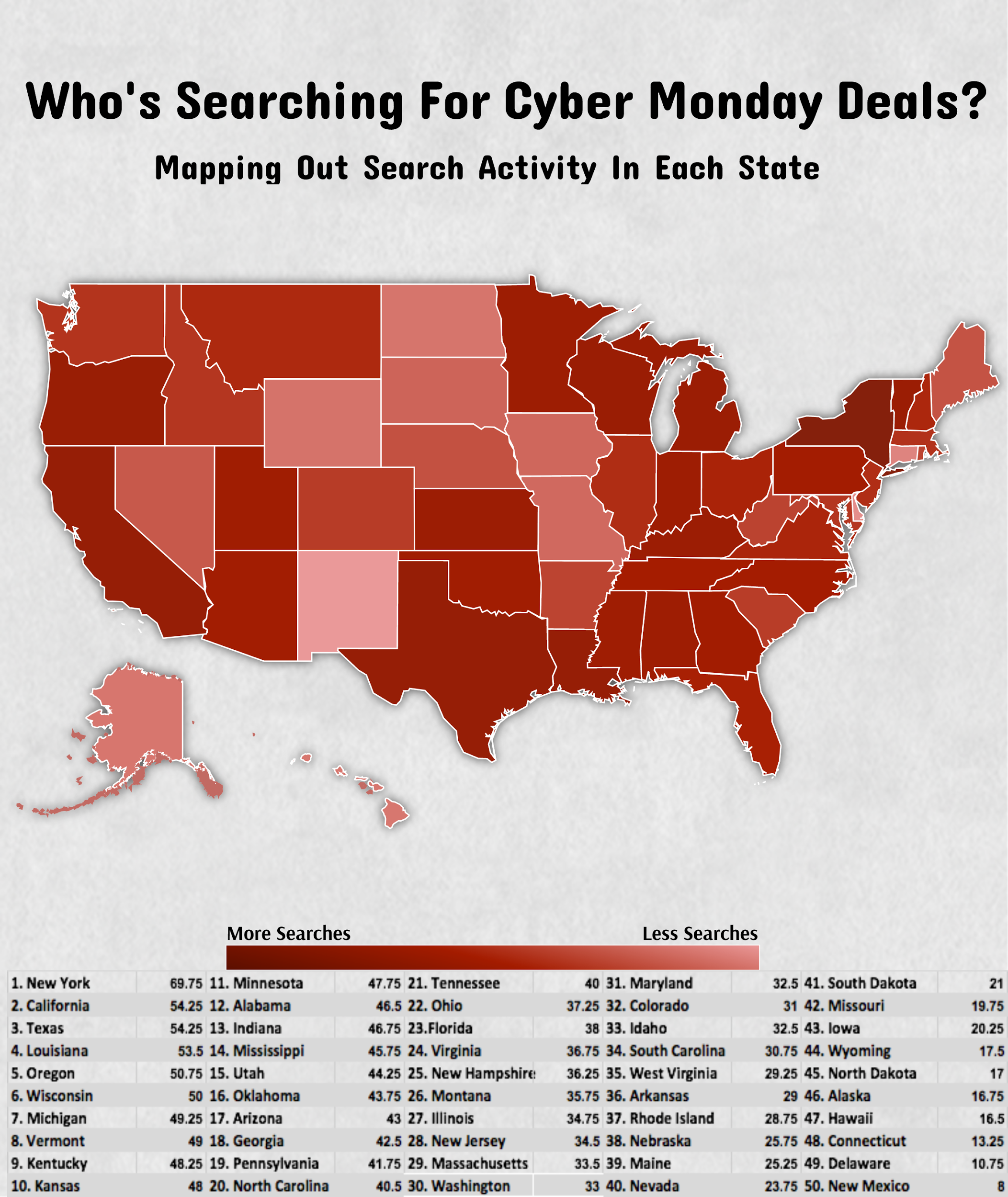 For Cyber Monday searches, we saw some similarities, but many more differences. New York, California, and Vermont, all states that didn't have much search interest in Black Friday, were all in the top 10 for Cyber Monday. Some of the southern states, like Alabama and Georgia, were still towards the top, but others, like Arkansas and South Carolina, were much lower. Two other noticeable drops between the two were Iowa and Missouri. For Black Friday, they came in at 9 and 10, respectively. For Cyber Monday, Missouri dropped to 42 and Iowa dropped to 43.
Overall, there was generally more search interest for Black Friday deals and sales than for Cyber Monday. And that would make sense with Black Friday being the more well-known shopping day and also with how Black Friday sales have gone digital. It was interesting to see how the search activity compared for each day nationally and in each state. It will be intriguing to see if the sales numbers in each of those states match up at all with their search activity. Until then, happy shopping everyone!